'As long as it takes, Canada will be there for Ukraine,' Deputy Prime Minister Chrystia Freeland said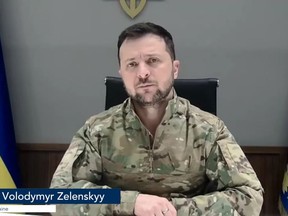 Article content
When Volodymyr Zelenskyy's image flickered onto the large screen at the University of Toronto, it still sent ripples through the capacity audience. By now the president of Ukraine is among the most recognizable of world leaders.
Article content
The standing ovations for his appearance by video link Wednesday from an undisclosed location in Ukraine, speaking to university student audiences across Canada, may ease what he revealed as his growing fear — the world's fickle attention span.
Warning against creeping complacency to Ukraine's ongoing fight to repel Russian forces, he told students their voice in social media is almost as powerful a weapon as guns on the battlefield.
When Russian tanks and troops attacked Ukraine in February, any speech by Zelenskyy, or any public sighting, electrified and galvanized world attention. It was such a remarkable thing.
Article content
Just the idea he had not fled, or been killed, was enough but each speech brought shock and curiosity and a message filled with such pathos they were unlike anything else.
For his appearance on Canadian screens, Zelenskyy wasn't wearing his usual attire, the simple, short-sleeved T-shirt in military olive green. The simplicity of that T-shirt reinforced his message — this is not a time for pomp and ceremony, this is urgent and he, along with his country, are in a fight for survival.
Almost as if he knew he needed to shake things up visually, he wore a more militaristic camouflage jacket, sitting at a desk between two flags. Perhaps it reflected a current security situation, as it looked as if he wore light body armour underneath it.
Article content
As the war draws on, Zelenskyy's appearances and speeches are less rare. His message remains one of life and death, but it is a message the world has become accustomed to.
So much so, it brought jokes — with Canada's Deputy Prime Minister Chrystia Freeland quipping as she introduced Zelenskyy that this event was organized at the "speed of war rather than the speed of bureaucracy."
Drawing back to the weight of the subject, Freeland then sent a message to Ukraine, and to Putin, "who is probably listening to us as well," she said: "As long as it takes, Canada will be there for Ukraine."
Speaking through a translator and hosted by the Munk School of Global Affairs & Public Policy, Zelenskyy spoke of Ukraine's ties to Canada, including his own visit three years ago. He compared Ukraine's war against Russia to the Toronto Raptor's NBA championship season that year: "when you win when no one is expecting you to win."
Article content
He spoke of Russian aggression and atrocities, and the "abyss" that separates the two countries, even though geographic neighbours, when measured by their values.
Answering questions, however, Zelenskyy's concern that his message was repetitive and his country's plight fading from view was palpable.
In response to a question from a student at the University of Alberta about what students could do to pressure their government to help, he said that Canada's government was already doing what it could.
"It's not the first time I've been asked but I will mention this again, probably the thousandth time, but what I will say is still very important: we need weapons, we need financial support, we need humanitarian support, and we need permanent, 24/7 sanction pressure (on Russia)," he said.
Article content
"No matter how many times I repeat this, this will never be one too many while the war is going on."
What he needed from students, he added, was their digital footprint.
"Everyone becomes weary of war. So by your actions in social media, in your communication with friends, going out to rallies in your countries and supporting Ukraine, with your actions, please, don't allow anyone, somewhere on the hierarchy of bureaucratical corridors to forget about what's going on in Ukraine, to forget about war.
"Please don't become tired because of the war and with Ukrainian war. This is something we need you for."
Earlier, in response to a question from a student at the University of Calgary, Zelenskyy said social media was a powerful weapon.
Article content
"In our case, it is almost like a weapon, showing the world what is going on in Ukraine," he said.
"This is a powerful instrument — and I don't want our partners to be offended, who do transfer very powerful pieces of weaponry to us, but I have to be honest, it is a big question: what matters more and what kind of weapon protects us more.
"Information, the words, sometimes can give a bigger blow than sometimes a weapon and our task is for the shells and bullets in this weapon not to run out, just like real shells and bullets shouldn't run out on the front.
"Just sharing what's going on is extremely important."
Zelenskyy's audiences have pivoted from addressing world leaders, foreign parliaments, and the United Nations to charity groups and universities.
Article content
Last month he spoke virtually at events hosted by California's Stanford University and the Association of American Universities.
As the world's attention is distracted, he looks for new ears and eyes, and new audiences to sway, to push his core message: We still need help.
Although that message is central in each, he tailors speeches to the surroundings. On Wednesday he spoke of ow Ukraine's universities and other institutions remain despite the war, but teachers are sometimes wearing combat boots, "teaching from the trenches," during air raids or taking shelter in subways stations from bombs.
His 20-minute speech was followed by 50 minutes of questions and answers from students at the various Canadian schools.
• Email: ahumphreys@postmedia.com | Twitter: AD_Humphreys