Article content
Flights are being cancelled, luggage is piling up, custom halls are lined up and a blame game is being played.
Article content
Travel in Canada in 2022 is a disaster.
And while there is plenty of blame to go around, most of it starts and ends with governments.
Yes, airlines losing your luggage is a problem, always has been and that isn't new. What is new is the airlines being asked to deal with baggage for a longer period of time. People are showing up at the airport hours earlier to get through security lineups that haven't been eased by the supposed hiring of hundreds of new screeners.
That's because few of those new hires were expected to start until this week.
So people arrive early, forcing the airlines and the airport to stack and stock bags for many more people than they normally would — all because of security screening issues.
At the other end, baggage handlers are now having to process bags for 700 customers who have been stuck waiting for an hour after their flight has landed.
Article content
Beyond the sudden rush, many of the customers landing will have missed connections,. Where do those bags go?
What is the holdup for that is keeping the planes waiting? It's often a customs hall overflowing with so many people that flights are told not to let passengers off until there is room.
This is a problem that has been ongoing since the end of March, there should be a solution to these problems at this point.
The International Air Transport Association issued a statement a month ago calling on the Trudeau government to fix these issues. I haven't seen statements from IATA calling out other countries, maybe because our delays are worse and being driven by government policy, including those around the ArriveCan app.
Article content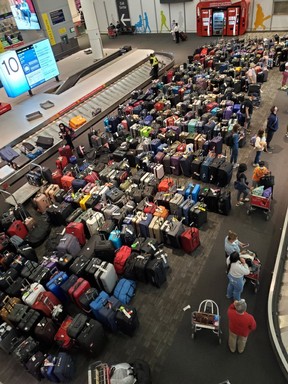 In late May, IATA detailed many possible fixes for the problems facing the industry, in particular at Pearson in Toronto, and the government has not acted. They have, however, extended COVID travel measures until Sept. 30, including use of ArriveCan.
Duncan Dee, the former chief operating officer for Air Canada, has been documenting the problems at Pearson and other airports since April 2. He said the government's decision to extend ArriveCan and likely make it permanent shows they have lost the plot.
"This is something that the customs officer's union has said is causing the bottlenecks," Dee said.
He also pointed out that making the app a requirement at an airport like Pearson, which deals with so many international flights from around the world, is problematic — especially given the app only works in English, French and Spanish.
Article content
"You try to get a Chinese grandmother trying to fill out the ArriveCan app properly and you wonder why customs officers feel like the IT help desk," Dee said.
He said that problems with passports, screening at airports and customs delays are making travel for Canadians really difficult and putting the entire travel industry in a tough spot.
"Until they fix that it will be a difficult summer," Dee said.
Transport Minister Omar Alghabra has said the government has done all it can to fix the system and the problems are with the airlines and airports. He knows that's not true and, like his earlier comments blaming slow passengers for screening delays, these comments don't help in any way.
He was described as frustrated following a recent tour of Pearson to see the issues firsthand, but frustrated isn't good enough.
Canadian travelers have been frustrated for more than three months now, it's time to come up with real solutions or step aside so someone else can do the job.