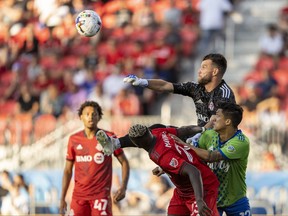 Article content
Toronto FC needs some quality veteran reinforcements like human beings need water and air to live — as Saturday night's 2-0 loss to the Seattle Sounders demonstrated once again.
Article content
TFC's two new high profile players — Serie A standouts Lorenzo Insigne and Domenico Criscito — were introduced to the BMO Field crowd at halftime on Saturday and received a nice round of applause. Unfortunately neither player can play for the Reds until next Saturday when TFC plays host to the San Jose Earthquakes. That game can't come soon enough. With the loss to Seattle, the Reds have now lost two in a row.
Article content
The main problem for the Reds this year is coach Bob Bradley having to start three, four, and sometimes five youngsters every game. That has taken a toll in terms of TFC just not getting results. It's been a good season for many of Toronto's young players (many of whom are teenagers) as they've had a chance to play a lot of minutes with injuries taking out many of the team's veteran players. But the TFC lineup needs more. With the loss to Seattle, TFC now has five wins, 10 losses and four draws on the season and a post-season spot is becoming an increasingly higher mountain to climb.
Article content
To take a step forward, and fight for a playoff spot, TFC needs to get more experienced, quality players on the field, and Insigne and Criscito will obviously help, but Toronto probably needs one or two more veteran players on top of those two. There's talk that TFC GM Bill Manning is trying to get Richie Laryea back from Nottingham Forest on a loan deal. That would be a good move.
"Anyone who has been around here in this last stretch knows that it was going to take a little bit of time to put the pieces back together in a strong way and make a real team — a team that can play football, a team that has the right mentality, a team that can be resilient, a team that can win. There was no quick fix, there was no magic dust and all of a sudden everything was going to be perfect," said TFC captain Michael Bradley, when asked about this year's rebuilt, and youthful, Reds team. "We know that, but tonight, especially the first half, was not good enough. It's frustrating because we've felt in this last step we've made progress."
Article content
TFC's other problem this season has been the defensive play. The Reds have yet to post a clean sheet in a regular season MLS match this year. New DP centre back Carlos Salcedo was supposed to be a major cog in fixing that. But frankly, the Mexican's play has been inconsistent, though, of course, a team's defensive play is not based on just the play of the backline. Bradley said the Salcedo is dealing with some family health issues.
Saturday's match marked the first meeting between TFC and Seattle since the Sounders won the 2019 MLS Cup Final. Seattle (7W 7L 3D) has won the last four meetings between the sides, with Toronto's last victory coming in the 2017 MLS Cup Final. Dylan Teves scored in the first half for Seattle on Saturday and Fredy Montero scored in the second.
Article content
The game marked the 100th game in a TFC uniform for the club's star attacking midfielder Alejandro Pozuelo (all competitions). Pozuelo was solid in setting up attacking plays against the Sounders but, again, a lack of finish was a problem. Saturday's match fairly evenly played, with TFC holding the edge in possession — 62%-38%. Toronto also had more shots (13-11) and shots on goal (6-4).
"We've had two games in a row where we had a lot of the ball and the other team defending very deep and then our ability to make big chances against the low block is still certainly an area that has to improve," said Bob Bradley. "Frustrating night."
The game started off slowly for both teams and the best chance for either team came in the 36th minute when Jonathan Osorio right-footed a cross from Kosi Thompson from inside the box and the ball flew over the net.
Article content
Seattle scored in the 39th minute on a quick break starting with a goal kick that ended with Léo Chú beating Salcedo badly on the left side of the field and then crossing the ball into the centre of the box where Teves redirected it into the goal with his right foot.
The half ended with Seattle ahead 1-0 in what had been a bogged down 45 minutes of play with referee Silviu Petrescu blowing his whistle at seemingly everything.
TFC had a good chance to tie it early in the first half when Michael Bradley made a brilliant cross to the far side of the goal that Deandre Kerr just failed to head into the goal. A couple of minutes later, Seattle rang one off the cross bar.
In the 54th minute, TFC striker Jesus Jimenez tipped the ball forward to Pozuelo deep in the box but Pozuelo couldn't beat Seattle 'keeper Stefan Cleveland. A couple of minutes later, Pozuelo set up Kerr again at the side of the net and Kerr's shot was deflected for a corner kick.
After that Toronto flurry of chances, Seattle scored its second of the night when Nicolás Lodeiro set up Montero beautifully with a through ball inside the box and Montero beat TFC 'keeper Quentin Westberg to bottom right corner for the 2-0 lead.
To their credit, after going down a couple of goals, the Reds did not sink into a funk, but kept pressuring in the Seattle end with Sounders keeper Cleveland making a nice diving save on Ralph Priso in the third minute.
Westberg made a nice leg save on Reed Baker-Whiting, who was sent in alone in the 90th minute.