'We couldn't stop at Timbiebs,' pop star proclaims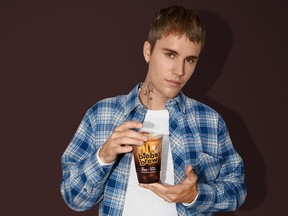 Article content
After a highly-successful collaboration with Justin Bieber last year, Tim Hortons has announced a new creation with the Canadian pop star.
Article content
Starting June 6 at restaurants across Canada and the United States, coffee-drinkers can try a Bieber-inspired French Vanilla cold brew coffee.
"We couldn't stop at Timbiebs, we needed a Biebs Brew too. And we are bringing both to Tims next month," Bieber said in a statement.
In announcing the collaboration, Bieber said the partnership fulfilled "a dream of mine."
"I grew up on Tim Hortons and it's always been something close to my heart," Bieber added.
Last fall, the London, Ont.-born singer joined forces with the chain for a line of Timbiebs Timbits — which came in Chocolate White Fudge, Sour Cream Chocolate and Birthday Cake Waffle flavours.
Bieber also launched wildly popular Timbiebs merchandise, including a beanie cap, a fannie pack and a tote bag.
Article content
The Timbiebs promotion "was one of the more successful traffic-driving initiatives in recent memory and outperformed our internal expectations," said Restaurant Brands International CEO Jose Cil during an analyst call discussing the company's financial results earlier this year.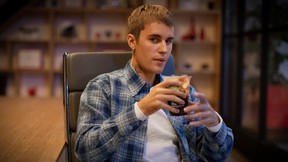 "What's amazing about working with Justin is he has an authentic, lifelong relationship with Tims and he was so invested in working on Timbiebs and our future plans together," the chain's chief marketing officer, Hope Bagozzi, said in a statement last year.
All three Timbiebs flavours will return to Tims restaurants in Canada and the United States along with Biebs Brew.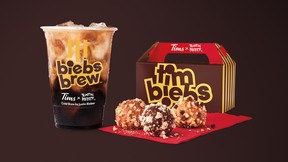 The chain will also sell a co-branded limited-edition Biebs Brew tumbler and bring back back limited quantities of Timbiebs merchandise.
"His commitment to working with us to develop a natural and authentic twist on the Tims experience is what made Timbiebs a hit and we know guests are going to love Biebs Brew and his take on Tims Cold Brew," Bagozzi added.