Reviews and recommendations are unbiased and products are independently selected. Postmedia may earn an affiliate commission from purchases made through links on this page.
Article content
When I'm stuck for something to make for dinner, I always make room for mushrooms. They are one of the most versatile ingredients to have in the kitchen, especially as Canada is home to such a substantial variety of mushrooms, each infused with delicate layers of umami flavour.
Article content
The good news is mushrooms are available year-round, notes the Canadian Mushroom Growers' Association, adding they're also fat-free and low in calories, as well as containing potassium, riboflavin, selenium, copper, and niacin. Ontario produces more than 50% of all mushrooms in Canada.
You can incorporate them into any meal of the day – and they cook up fast and delicious. Try them on toast or pizza, in soups and I personally love a nice mushroom risotto, which uses dried mushrooms as well as fresh.
If you're running out of recipe ideas for mealtime, just reach for some mushrooms – you know the old saying, there's always room for the 'shroom!
Varieties
White Button: This popular mushroom ranges in size from tiny to jumbo. Add to soups,    salads, pastas, stir-fries and  meat dishes.
Crimini (Brown): Similar to button mushrooms with an earthier flavour. Sauté, stir-fry, grill or    bake.
Portabella: Large, mature crimini mushrooms with a meaty texture. Grill or stir-fry.
Oyster: Large fluted silky gray or blue caps with short stems. Grill whole or slice and stir-fry.
Shiitake: Velvety dark tan caps with a meaty texture and rich woodsy taste. Sauté, stir-fry or grill. Discard tough  stems or use to flavour stocks.
Article content
               – Foodland Ontario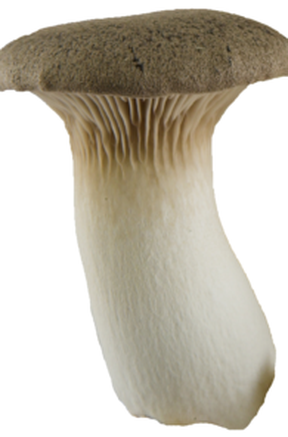 King Oyster Mushrooms: This stout, thick fleshed mushroom is one of the best-kept secrets of the vegan world. They can prepared in a variety of dishes that mimic other ingredients (such as pork), making for the perfect pulled sandwich – without meat. The King Oyster remains firm when cooked and has a delicate, woodsy and slightly sweet flavour. Adapts well in French, Italian, Mediterranean and Chinese cuisines, and stands up to stir-frying, and grilling.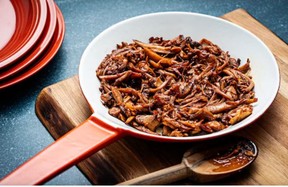 Pulled King Oyster Mushrooms
Adapted from a Washington Post recipe to include additional ingredients. Serves 4.  https://www.washingtonpost.com/food. (Photo by Scott Suchman; food styling by Marie Ostrosky, both for The Washington  Post)
Article content
1 lb. king oyster mushrooms
3 Tbsp. low-sodium soy sauce or tamarind
2 Tbsp. extra-virgin olive oil, divided
2 tsp. maple syrup
1 Tbsp. dark molasses
1 Tbsp. dark brown sugar
1 tsp. smoked paprika
1 clove garlic, mashed
Pinch fine sea salt
Favourite cole slaw
4 buns
Pull tines of a fork down the length of each mushroom to shred it, breaking up head with your fingers, if needed. In a large bowl, whisk together all ingredients plus 1 Tbsp., olive oil. Add mushrooms and toss well to coat.
In a large saute pan over medium-high heat, heat remaining olive oil until shimmering. Add mushrooms and cook,  stirring frequently, until they release their liquid, it evaporates and they start to brown and stick, 10 to 15  minutes. Divide mixture into four buns, top with slaw and serve.
Article content

Mushroom Veal Marsala
Tender and tasty, and made with a generous serving of mushrooms and Marasala wine. You can substitute chicken cutlets  for this dish. Serves 6. Courtesy Foodland Ontario (Ontario.ca/foodland)
1-1/2 lbs veal scaloppini
Salt and pepper
1/4 cup all-purpose flour
1/4 cup olive oil
2 Tbsp. butter
2-1/2 cups sliced crimini mushrooms (about 8 oz.)
1-1/2 cups sliced shiitake mushrooms, caps only (about 6 oz.)
1 large clove garlic, chopped
1-1/2 tsp. fresh thyme leaves (or 1/2 tsp. dried)
2/3 cup sweet Marsala wine
1 cup chicken broth
2 Tbsp. finely chopped fresh parsley
Season veal with salt and pepper. Coat with flour; shaking off excess. Set aside.
In large skillet, heat 2 Tbsp. of oil and 1 Tbsp. of butter over medium heat. Add mushrooms, garlic and thyme. Cook  for 3 minutes, stirring, until soft. Remove mushrooms to plate. Add remaining oil and butter to skillet. Add veal, in  batches, cook for about 1-1/2 minutes per side or until done. Transfer to plate.
Article content
Add wine to skillet and cook for 1 minute, scraping up any bits from the bottom. Stir in broth; cook for 3 minutes  until sauce thickens. Return veal and any accumulated juices to skillet, coat with sauce on both sides. Add reserved  mushrooms; cover and heat through. Sprinkle with parsley.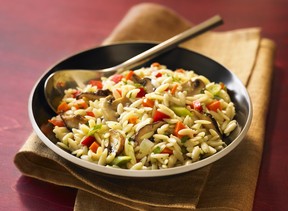 Mixed Mushroom Orzo
Looking for something a little different to serve with your main entrée? Try orzo, a rice-shaped pasta that works beautifully with this mushroom and vegetable-infused dish. Serves 6. Courtesy Foodland Ontario (Foodlandontario.ca.)
1 Tbsp. vegetable oil
8 oz. mixed mushrooms (white, crimini and stemmed shiitake), sliced
1 medium-sized onion, chopped
1-1/2 cups orzo pasta
1 cup finely diced carrots
1 tsp. dried thyme
Article content
2 cloves garlic, minced
3-1/2 cups sodium-reduced chicken broth
Salt and pepper
1/4 cup diced sweet red pepper
2 Tbsp. chopped fresh parsley
1 green onion, thinly sliced diagonally
In large saucepan, heat oil over medium heat. Stir in mushrooms and onion; cook, stirring occasionally, for 5 minutes  or until softened. Stir in orzo, carrots, thyme and garlic; cook, stirring, for 1 minute. Add broth and bring to a  boil. Reduce heat to low; cover and simmer for 15 minutes or until orzo is tender and most of liquid is absorbed.  Remove from heat; let stand for 5 minutes. Fluff with fork, season with salt and pepper to taste. Stir in red pepper,  parsley and green onion.
Tip: To make ahead reserve 1/2 cup broth and do not add peppers, parsley and green onion. Cool, cover and refrigerate  for up to 1 day. Stir in reserved broth; cover and reheat in 350F oven for 30 minutes, stirring halfway through. (Or,  reheat in covered dish in the microwave.) Fluff with fork and stir in red pepper, parsley and green onion.