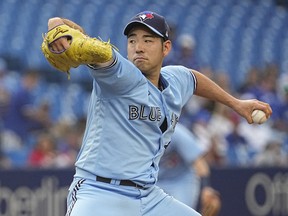 Article content
Welcome back, Yusei Kikuchi.
Article content
Nice to see you again.
After weeks of struggles littered with losses, no-decisions and short outings, Kikuchi found his mark on Thursday night at the Rogers Centre against the Tampa Bay Rays.
The Blue Jays starter struck out a season-high eight in six innings of work, giving the Jays' offence enough room to provide the proper support in a 4-1 Toronto victory.
Article content
The win kicked off a five-game set against the Rays, and gave the Jays some space in the American League East among those jockeying behind the New York Yankees. The Jays are 12 1/2 games back and tied for second with the idle Boston Red Sox. Tampa Bay, in third, fell 15 games back.
Kikuchi (3-4) had not registered a win since May 16, losing three with four no-decisions. His six innings tied a personal season best, and came after he lasted just two in Milwaukee against the Brewers last Saturday.
Article content
Kikuchi scattered four hits and walked one before a crowd of 22,987.
"If you throw strikes, you get people out because his stuff is so good," Jays manager Charlie Montoyo said. "I have been talking to him, I've said, 'You have better stuff than all our starters' and that's a big compliment to tell somebody when you have (Alek) Manoah and (Jose) Berrios and the rest of the guys.
"That was huge for him to go six innings."
The Toronto bullpen was just as effective.
Trent Thornton pitched a tidy seventh, giving up one hit and striking out one.
David Phelps faced four batters in the eighth, and Adam Cimber tossed a three-up, three-down ninth for his fourth save.
For Kikuchi, one difference came from adjustments made in his mechanics.
Article content
"The biggest thing was not allowing my throwing arm to get dragged behind, being more on time, not late," Kikuchi said through a translator. "Really getting on top of the baseball. My release point was getting lower as well. That is the biggest thing we emphasized.
"It feels great. The three or four past outings weren't great and I understand the position I put the team in. Being able to perform, go deeper, throw six innings and do my part, and after the game, getting after it in the clubhouse with the boys was really fun."
Of course, the work done with pitching coach Pete Walker between starts was crucial.
"I was throwing a cutter and a slider (on Thursday)," Kikuchi said. "We had stayed away from the cutter, though I did throw it earlier in the year. In talking with Pete, we thought it might be a good time to start throwing it again.
Article content
"The cutter was the pitch where hitters were doing the most amount of damage. To be able to throw the cutter and the slider (effectively) makes the hitters a little more uncomfortable."
Said Jays second baseman Santiago Espinal of Kikuchi: "We're together 24/7. We're his family. Whatever he does, we got his back, doesn't matter if he does good or bad."
The Jays quickly got to Ryan Yarbrough (0-4), who entered the game in the second inning after opener Matt Wisler faced the minimum three batters in the first.
The first batter Yarbrough saw, Alejandro Kirk, singled. Teoscar Hernandez then launched a slider to the left-field seats for a two-run shot and a 2-0 Jays lead. It was the eighth home run of the season for Hernandez.
Article content
Yarbrough allowed just three hits in the following four innings. That changed in the seventh, when Espinal homered to left on an 0-1 count. Espinal's sixth homer also scored Lourdes Gurriel Jr., who led the inning off with a single.
Isaac Paredes touched Kikuchi for a solo home run with two out in the fourth.
Kikuchi's eighth strikeout was the 400th of his major-league career, and he received a nice round of recognition from the crowd when it was acknowledged on the scoreboard.
Kikuchi worked out of a small jam in the sixth. After giving up a pair of singles, Kikuchi got Harold Ramirez to ground to third baseman Matt Chapman for a double play. Randy Arozarena then grounded out sharply to Chapman.
"It's huge," Montoyo said of Chapman's sharp plays on defence. "I don't take it for granted. He makes it look so easy, but it's not. Since he got here, our defence has got so much better."
Article content
With five games in four days against the Rays, including a doubleheader on Saturday, Montoyo is keeping a keen eye on his lineup, including his bullpen.
"You have to go game by game," Montoyo said. "And not only the pitchers, the position players — that's a lot of games, no days off and then go into Oakland with no days off and play there (on Monday against the Athletics to start a seven-game trip to the west coast). We have to pay attention to everything, not just the pitching."
Montoyo wasn't sure who will start one of the games on Saturday. Kevin Gausman will get his turn in the rotation with one of the starts that day, and Montoyo said it would be the pitcher's choice whether he takes the ball in the afternoon or early evening.
Article content
DIAMOND DUST
With Phase 1 of the voting for the all-star game finished, the Jays have six finalists advancing to Phase 2, including Kirk, Vladimir Guerrero Jr., Espinal, Bo Bichette, George Springer and Gurriel. Voting for Phase 2 starts on Tuesday and ends on July 8 … Berrios, who starts for the Jays on Canada Day, is 0-3 in five career games against Tampa Bay with a 5.76 ERA. In his past two starts, both losses, Berrios has been lit up for 14 earned runs in 6 2/3 innings and has recorded just two strikeouts … Reliever Trevor Richards, who has missed the past 12 games with a strained neck, has started a rehab assignment with triple-A Buffalo.