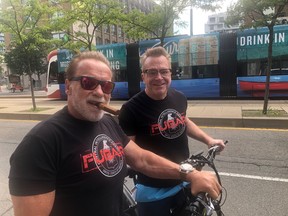 Article content
Arnold Schwarzenegger is enjoying the summer weather in Toronto as he films an upcoming spy series for Netflix.
Article content
The 74-year-old action man has been spotted biking around the city over the last few months and took to Twitter on Sunday evening to share a photo with pal Tom Arnold as the two cycled around downtown Toronto with Arnie chomping on a cigar while a TTC streetcar zipped by in the background.
"Reunited with my old partner," Schwarzenegger said captioning the picture.
Article content
Arnold, 63, shared the same photo to his Instagram page and wrote, "Keeping up with this guy is not easy." Both men sported FUBAR T-shirts — a military acronym that stands for "F—ed Up Beyond All Repair."
When one follower asked Arnold where his cigar was, he quipped: "It fell out of my pocket onto the Toronto street, which I think is a felony in Canada."
In another photo, Arnold posted a selfie with Schwarzenegger with the caption, "Me and the other Arnold make it a point to work together every 28 years."
In the comments, fans speculated that Arnold's appearance in Toronto could mean that Schwarzenegger's project is tied to 1994's True Lies, an action-comedy directed by James Cameron in which they both starred.
"I feel a True Lies sequel is needed now!" one person wrote with another adding, "'I'll be back, for a True Lies sequel' is what we all need right now."
Article content
But fans hoping that Schwarzenegger's first foray into TV is a sequel to the beloved flick shouldn't hold their breath. In a 2019 interview with the Sun, Cameron said that while True Lies 2 was at one point on the table, he pulled the plug after the 9/11 terror attacks.
"I came back to it in 1999 … I thought it was time for a sequel. Arnold wanted to do it, I wanted to do it and we were writing it. But then Sept. 11 happened in 2001. Suddenly doing a domestic comedy about international nuclear terrorism didn't seem so funny anymore. So I just said, 'Forget it, we're not doing it.' And that was that," Cameron said.
The former governor of California has been in Hogtown since May filming the series, which is shooting under the name Utap. The show co-stars Monica Barbaro (Top Gun: Maverick) and is billed as a global spy adventure that centres around a father and daughter (which makes me think it IS a True Lies sequel).
Article content
And even though Schwarzenegger hasn't been taking as many selfies as Adam Sandler (who's also filming in the city and has stopped to play hoops with random strangers and will play catch with your kid IF you spot him walking around Yorkville), the Last Action Hero star gamely posed with restaurant staff Akira Back inside the Bisha Hotel following a recent night out. After the meal, he naturally said, "I'll be back."
Article content
Schwarzenegger is scheduled to be filming in the city until the end of the summer — and hey, Arnie, if you're reading, might I suggest you check out Tommy Thompson Park. It's the city's most beautiful spot for a ride.